All lessons include knowledge of basic horse care, anatomy, and riding. Our lesson times are flexible!! Some of our students do one lesson a week and some do up to three lessons a week. All riders are evaluated and are matched up to the perfect horse buddy! I also let each student know when the vet, farrier, or dentist is coming so that they can learn about all of those things as well! If you have your own horse you'd be more than welcome to bring them for your lessons, OR I can come TO YOU!!! Reach out and get a pricing quote TODAY!!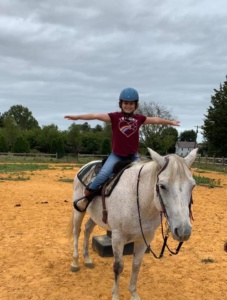 Children Ages up to 4 years
This age range USUALLY does best with instructed pony rides. For that, what I like to do is teach a little bit as we go along with each lesson. I will teach them as much as their young minds can handle at a time. I still give instructions while leading the student around. These lessons are often less than a half hour in the saddle, and a decent amount of time on the ground getting comfortable. I also go through and explain to the student what I am doing, as I am getting ready for the lesson, and depending on age and ability ask them to help me. This type of lesson all really depends on the age of the child, their attention span, and how long the lesson period is.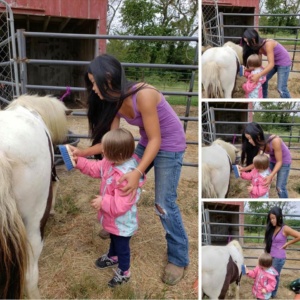 Children Ages 5-7 years
This age range USUALLY does best with hour lessons (half may be a good option too). These lessons will be very similar to the above lessons with some time on the ground before and after each lesson. Here we are learning equine safety, how to catch the horses to bring them in to get ready to ride, tacking them up for their ride, and learning about what all the equipment is and what it does. Then they will have saddle time riding and learning to steer and stop on their own. We do a lot of balance, and safety dismount activities as well. Also learning how to un-tack the horse and put our gear away properly and turning the lesson pony back out into their pasture.
Children Ages 8+
These kiddos are USUALLY ready for hour lessons!! Each time they come I'll teach a little more on "the before" hitting the saddle and do 40-45 minutes in the saddle, and conclude in the same fashion as "before" for instruction "after" we are out of the saddle. These types of lessons include a lot of fun different patterns to have the rider maneuver the horse through to fine tune their steering skills.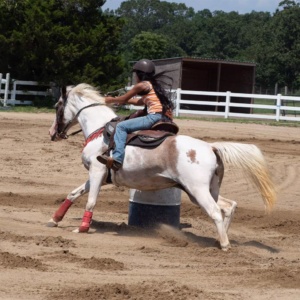 Adults:
All levels of riders are welcome from beginners to advanced! Some other things we can do is, teaching students how to strengthen the bond between horse and rider from the ground up! Maybe you need to gain lost confidence back up under saddle? Or taking a beginner to a whole new fun world of horsemanship!! Have you always wanted a horse and want to know exactly how to care for one and what it entails? Come learn all of the basics of owning a horse!!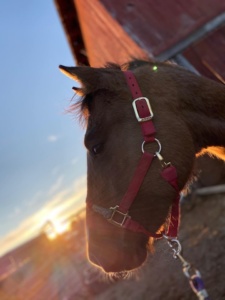 Other classes offered:
Desensitizing classes – Does your horse spook at something specific? Or maybe everything? We can set up training classes that focus specifically on desensitizing your horse from being spooked at balls, plastic bags, flags, water, crossing bridges, etc.
Click HERE for Enrollment information and Pricing!!
* Important message: Please read our BARN RULES page.